Things I'm going to discuss:
Current price status
Fix for the micro losses in V4.12
Public tool for monitoring 10BTC+ fills
Status of your funds
Some quick fixes:
Fix a bug that wouldn't record a sell into our dashboard
Fixed password reset bug
Known bug: high-water mark and profit calculation bug (work in progress)
I'd thought to give you an update on the status as a lot things are going on.
As most of you are aware the market is crashing since its most stable period in Bitcoin history. The markets are recording a loss of 29.92% in 7 days, with no end in sight. With an all time low market cap of $146B.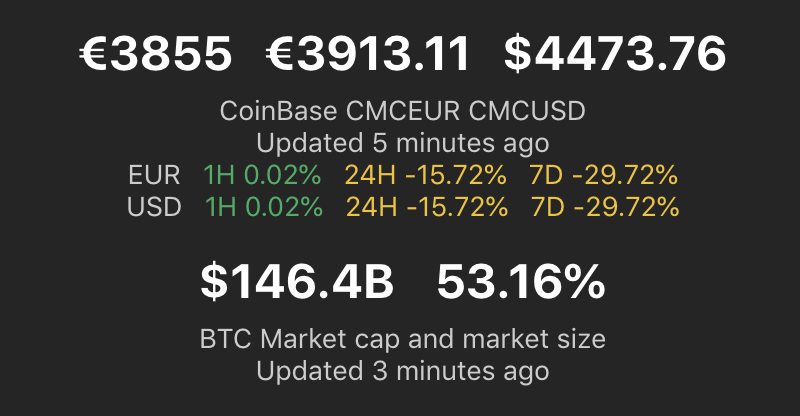 The war between Bitcoin ABC vs Bitcoin SV continues with Craigh Wright trolling and threatening the ABC side.
The latest tweet from Craig:

And a quote from Jihan Wu, founder of Bitmain, and sided with Bitcoin ABC:
"I have no intention to start a hash war with Craig, because if I do, by relocating hash power from BTC mining to BCH mining - BTC price will dump below yearly support; it may even breach $5,000. But since Craig is relentless, I am all in to fight till death!
As of writing ABC is 72 blocks ahead of SV. On November 19th SV had a brief period where it was ahead of ABC for about 1 block.
Craig tweeted this after the short lived victory: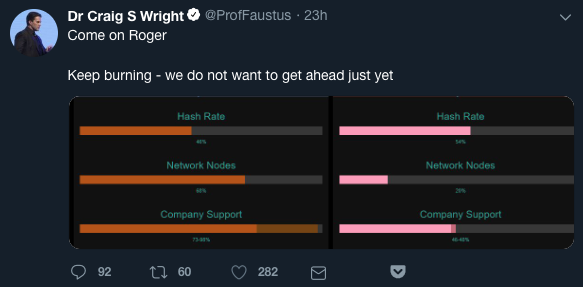 However, this was not his initial tweet, his unedited before was: "Keep burning: I want to bleed you dry" and targeted at Jihan Wu, instead of Roger Ver.
All this doesn't help to get the situation under control. Instead these are grounds for further escalation.
It's become a pissing contest between wealthy crypto influencers, all the while taking everyone down with them.
If it goes on a full out war, unlikely but real, Craig threatened a price of $1,000 per Bitcoin, if he were to dump his Bitcoin stash to rent hashing power. The SV side is slowly losing, but Craig seems to be very unpredictably and not going to let things go yet.
How can Bitcoin price tank if it's a war related to Bitcoin cash?
Each side ABC and SV wants to stay ahead of each other in terms of mined blocks. Usually the longest chain is decided to be the "authentic" chain. So they are incentivised to mine faster. They can do so by renting hashing power from the Bitcoin mining pool for example. However this will cost a lot of money, which is paid by Bitcoin, and sold on the market. When there's a lot of supply, prices will fall.
Another take related to Jihan Wu's quote I shared before, that to protect ABC he is willing to switch hashing power from the Bitcoin mining pool to ABC. If he does so the feedback loop, which I explain below, will be reinforced. We already breached the $5K mark and we see an uptick in hash rates on ABC as seen below on the yellow line.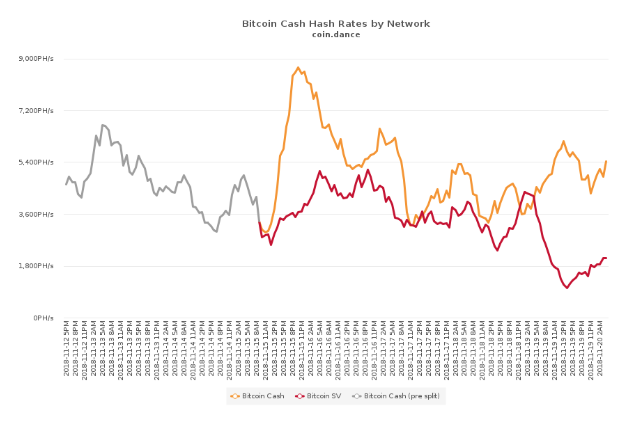 So he either commited more hash already after the short victory of Craig, which caused the price to break $5K, or the market broke itself and we will see even worse prices, if this was not due to shifting hashing power.
Where do I see prices go in the near future?
Because of the all-out-war possibility the market sentiment is negative, so even though no Bitcoins are dumped yet by Craig, small retail investors are beginning to capitulate, pushed by whales playing this game. Sick of the losses throughout all year, after believing everything would be going up after the stable period.
For Proof-of-Work systems (where miners are rewarded based on their computing power), there's an unfortunate feedback loop in price drops. As said by Colin, founder of Nano currency, Low price -> low mining rewards -> turn off some miners to lower cost -> lower hash rate -> longer transaction confirmation -> lower price.
Until things get settled down a bit with the hash wars, I do not expect positive price action for weeks. To recover from this, will also take a while. We had a long time of stability but recent drop caused a whole lot more fear for potential newcomers.
Public tool for monitoring 10BTC+ fills
Since I'm monitoring the exchanges out of interest due to the hash wars. I wanted something that notifies me on big orders being filled.
Order books show huge buy and sell walls from whales. They are putting the buy walls briefly in the order books to give (false) confidence that "some whale has their back". So there was a buy wall of round 80BTC flashing in and out, after the first crash and before the second crash. Once I saw a 41BTC and 18BTC sell filled, I knew that buy wall was gone. Then within 30 minutes the second crash happened.
It looked like this: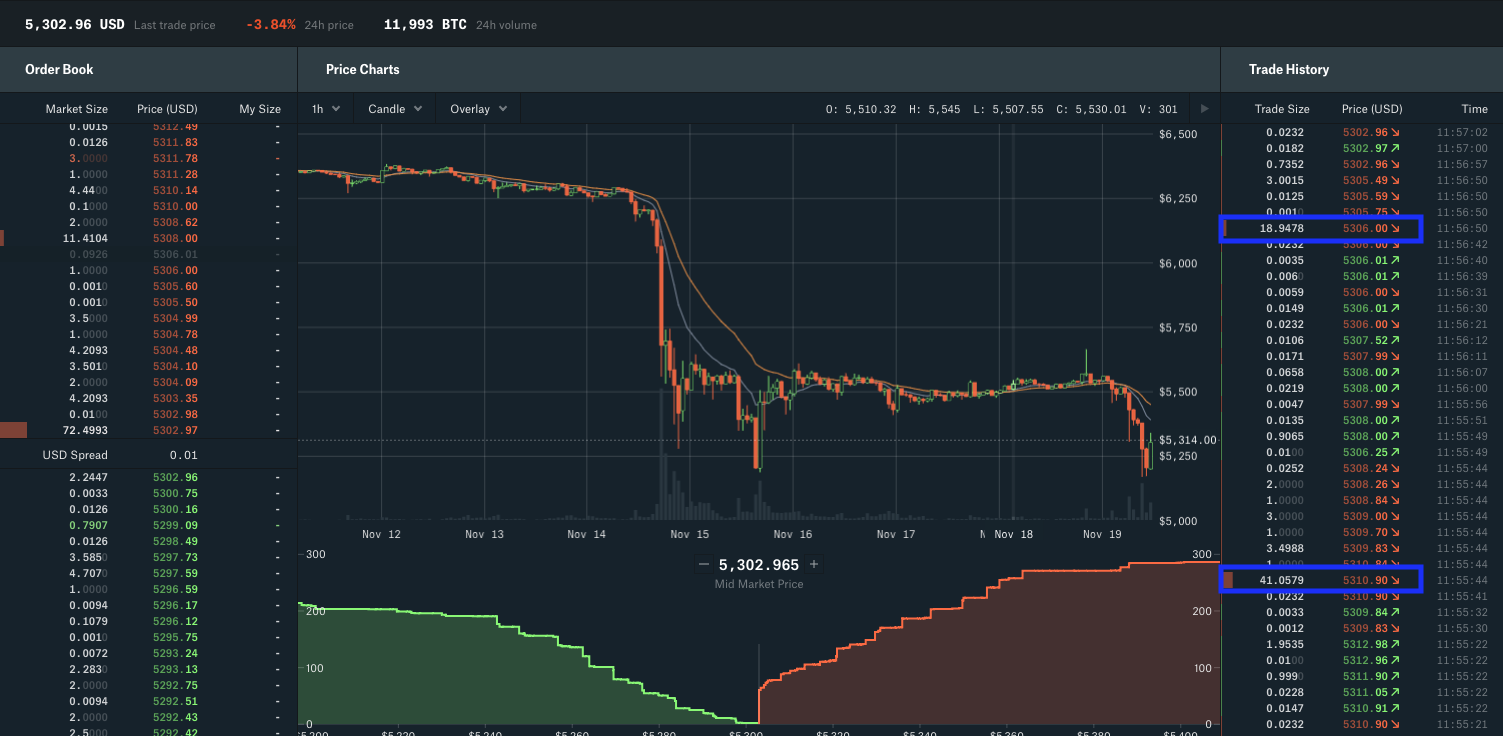 I'm going to launch a public tool this week where you can monitor these big fills, so stay tuned.
Okay enough on this hashing war, on to other things related to Coinbakers.
Update to V4.12
I pushed a fix for the small losses from past month due to the sideways market. In my previous blog post I said I wouldn't change the strategy due to some complications with merging multiple strategies.
Instead I should have just tweaked the current strategy. So yeah, lessons learned.
This update eliminates all the micro losses since the market went flatlining. I widened the ranges that determines ranging markets and set stricter rules for going into position while in this range. I'll share some backtests later as I work on tweaking it further.
How is the Binance pump monitor strat going along?
No time yet as I've been fixing bugs and connecting new customers.
How is the status of my fund?
As pointed out in my last blog post, we were not in a trade so everyone's fund is safe, and you didn't feel the 30% drop. I do not expect a buy trigger from the strat for coming weeks as the market needs to stabilize first and show growth before it considers entering.
Well that's it for now, you should have a better understanding of what's going on now and the overall status of crypto. It's messy atm but no need for panick.
Stay sane,
Jason