Yesterday we entered a trade and I started monitoring if everything was running well. This is the first time it runs for many of you. The BTC/USD pair was filled within a minute but BTC/EUR pairing had trouble getting filled. Because we use limit orders (no fees) for buy orders we chased the price up way too long. The buy in price difference was almost 4% between USD and EUR. This means that the EUR pairing had 4% higher risk, on top of the risk of every buy in.
I found another issue that the adviced candle price we use are always starting at the full hour, while the strategy system uses the candle at the minute of the server starting up. This gave another % of discrepancy between our advised and actual price. Even though both are full hour candles, we use the full hour advice candle price. This is not critical but also not desired. The risk increases with increased volatility, in most cases we should be ok but I it should be looked at.
As we hard exit on a -5% loss, add another 1% candle price discrepancy, another 4% higher buy in price for EUR, and with the volatility, the risk would be well over 10%. Prices can come crashing down hard, usually within a couple minutes.
Even though it's nice to see so much upwards volatility, it doesn't sit well with me. The strategies exit point widened so much due to its volatility, and would sell at a loss if a sudden crash occurred. Remember that increase in upwards volatility also increases downwards volatility.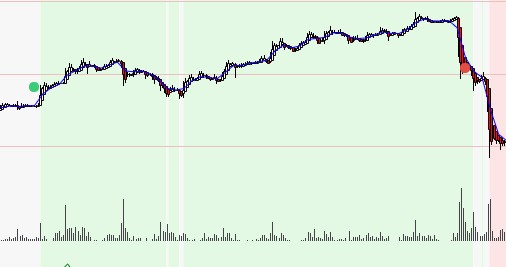 Something like this could happen (image not from this trade) which evaporates the pending profits. It's VERY hard to prevent this. You could mid-sell and mid-buy the trend but from backtests this has always proven to be performing worse.
As we just came from a massive crash I determined that all those things together, it's best to take our profits for now.
Due to the nature of the strategy, based on a heavily modified open source code, I will start a rewrite based on my own code. This gives me multi-timeframe monitoring, including real-time, to better catch end-of-run crashes. I did a rewrite on the order execution system, and it's performing flawlessly compared to the open source code (dropped orders, unreliable responses etc.) before. It seems the open source code is not well suited for our use-case and the managed-risk first nature of our strategy.
With that said, EUR accounts closed averagely with a net profit of 1-2% (based on entry) and USD accounts all closed with a net profit of 5.5%.
I will pause all trading for now until I have a better risk managed solution for high volatility situations and maybe even wait a complete rewrite of the strategy execution system. In backtests I never watched potential drawdowns, as I assumed it was always a hard 5% loss as a backup.
Feel free to open your own positions in the meantime or resume trading in the app dashboard, but bear in mind the risks involved with the strategy. If you still want to make use of the bot, I recommend withdrawing most of your funds from CoinBase Pro to CoinBase, let it trade with smaller sums and move funds in again when the update is finished. As for the commissions, I will not charge anything at the moment, until I have the new system working either through a rewrite or updated with the critical adjustments.
Critical strategy adjustments:
Trailing stop loss on high volatility situations when in profit
Market orders when not filled within 5 minutes and/or the price running away from us significantly
Nice and important to have but not showstoppers:
Sync server candle and full hour candles that may cause price discrepancy. Higher risk in high volatility situations.
Multi-timeframe support for quicker exits on crashes and trying to prevent end-of-run crashes
Due to the holidays I hope for an update by end of January.
Feel free to reach out with any questions you might have.
Cheers, Jason