Performance summary
Market ~ +22%
V4 ~ -7%
V5 ~ -3%
Discrepancy between market vs strategy performance due to the anti crash bug/edge case, selling early during the April 1st rally. Read below and last blog post for more details.
From next month I will only report performance from the Master strategy.
Quick summary
Disabled anti-crash monitor but not enforced in code, which caused it to trigger again on 21st April. Fixed.
Trades in your dash might look a bit messed up, like multiple buys without sells. This has to do with trades triggered by the supporting strategy not properly having being registered.
V4 doesn't need major updates anymore as it's performing well, if we don't consider the anti-crash bugs. Focus now on new seasonal strategy that will be developed mostly in isolation. This will improve reliability and stability.
Master running V5 at the moment now due to Tether volatility.
April Trade Summary
It's getting complicated now with multiple strategies. From now on I will share and discuss only the trades from the Master strategy. You will be able to see dedicated strategy trades in your dashboard.
The trades might look a bit messed up because of some registering issues when trades are triggered by the supporting strategy. May trades will be better as the registering issue is fixed.
Outlined below is the Master strategy on the EUR chart. It's a bit messy due to the introduction of Master and Support strategy.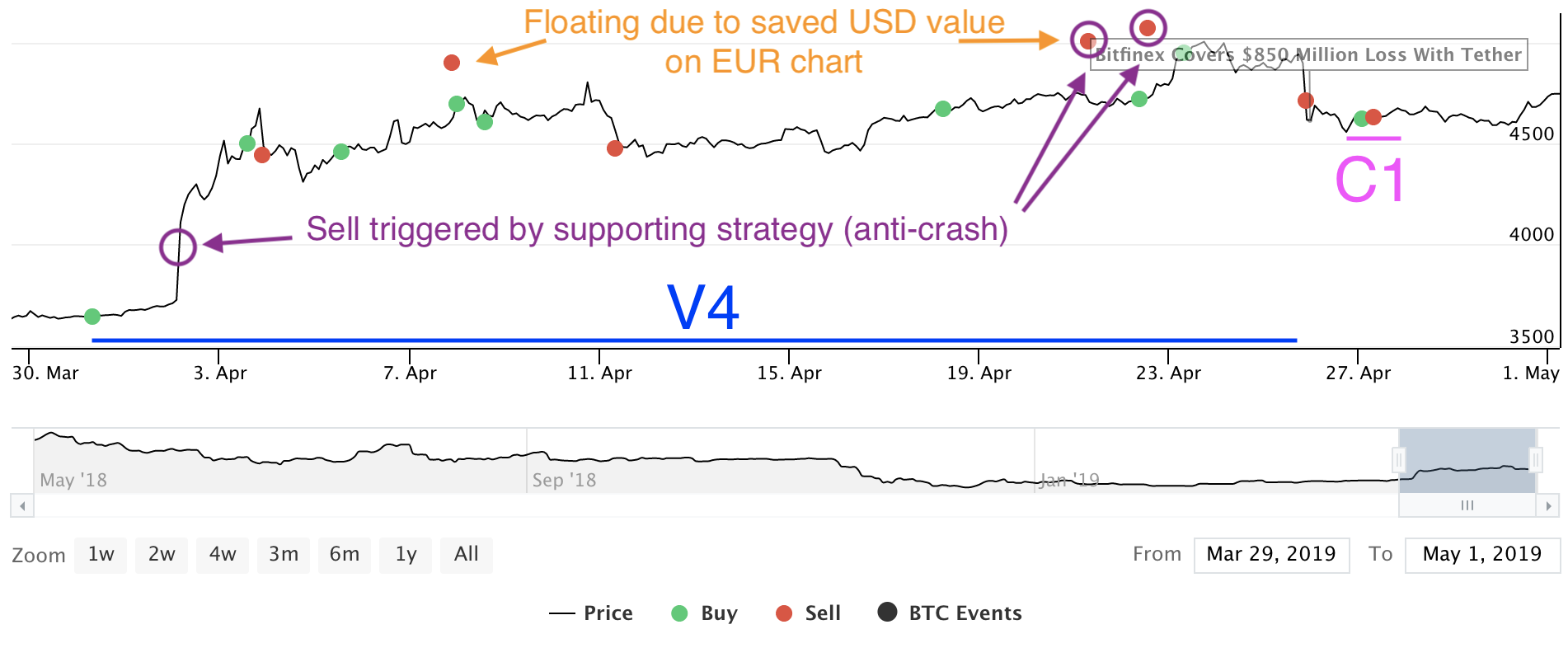 Things to highlight are the purple sell triggers. Those were triggered by the supporting strategy anti-crash monitor. This should not have ran like I mentioned and explained in detail in my last blog post. We gave in a good ~25% profit on this in the beginning of April. I turned it off afterwards but it was triggering again on 21st and 23rd April. I investigated and discovered that the code to enforce this settings was missing. Unfortunately it made several sells which were unnecessary.
All the trades were executed by V4 with exception of the last 2 trades. Those were triggered by the crash trading strategy C1. After the Tether news broke the C1 setup was triggered and sold again after 7 hours.
V4 and V5 are both very slow strategies so after a major crash like the one on 26th April, it would have never bought in. However because C1 is optimized to trade crashes, C1 took a position. This is the first time the Master strategy is seen in action with multiple strategies running. Expect more optimized strategies to be plugged in running on different time frames.
All in all, it sucks that we missed out on good profits due to edge cases of the supporting strategy. We had good positions and both V4 and V5 are still relevant and performant. With the sentiment changing I'm hopeful that we will see better performance coming months.
Also many stability updates and fixes have been pushed past weeks. As for V4 and V5, no major changes are planned. With development underway for a new seasonal strategy, which is developed and tested in isolation of all current running production systems, this will not introduce major bugs like with the complicated support and master strategy.
About Tether
I have always been skeptical about Tether/USDT. It works as long as it works. Tether shared that it's backed with 74% of fiat AND "cash equivalents". This is far from 100% which I never believed. Things to note is that this is self reported and we don't know how much % is actually backed with fiat. The "cash equivalents" may be loans to themselves (Bitfinex owns Tether) which may never be repaid.
Personally, 74% is much better than let's say 20%, but again it's self reported. Without an external audit we will not know. It works as long as the majority believes Tether is able to full-fill short term orders. The upside is that you have thicker orders books/higher trade volume -> less slippage -> better prices. However the downside is a collapse which will leave you with much more losses than the little upsides will give. This risk/reward ratio is not something I would personally want to touch.
If you trade on the USDT pairing be aware of the risks involved. If you plan to change away from USDT on CoinBakers, you can do so in your dashboard. Just update the API keys and select the desired exchange/pairing. Or just reach out to me and I can manually change the pairing without updating the API keys.
With that said, I've set the Master strategy to run now on V5 instead of V4, due to the uncertainties around Tether for now.
That's it, until the next time.
Jason